It all started with the small family farm on the steep slopes of the Aveyron.
Multi-cropping, a few cows and pigs, poultry and vegetables from the garden
have enabled several generations to live almost in autarky.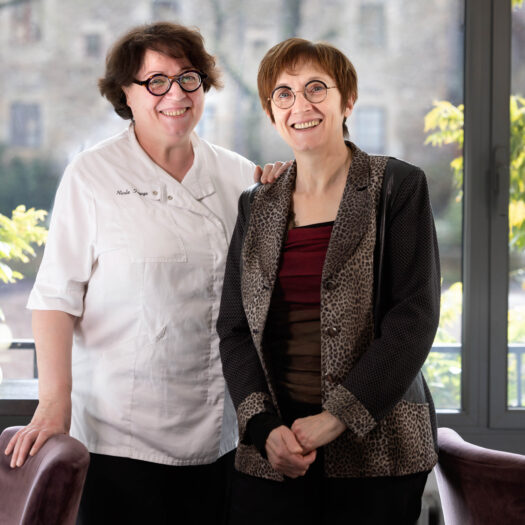 Marcelle, the mother, who have developed the inn by offering products from the farm but also fried fish caught in the Aveyron.
Nicole and Michèle, the daughters, rooted body and soul in this place where they were born, marked by emotions and childhood memories that remain strong, wanted to continue to keep the restaurant alive.
« Our village and our family gave us a love of people and things, a taste for the beautiful and the good, for the essential and the joy of living. The house was full of flavours and smells. Our young years taught us the art of eating well, of living well, of loving to receive ».
Nicole shares her passion for cooking with her husband Bruno Rouquier and it is together that they run the restaurant du Vieux Pont.
The pretty Belcastel bridge over the Aveyron is a landmark, a point of balance, a strong element in the FAGEGALTIER ROUQUIER family. It is the link between the hotel and the restaurant, but also between yesterday and today, between flavours from here and elsewhere, between the guests and the family…